We can notice this 2022-23 has been a giant letdown for the Columbus Blue Jackets and their fans through the first two months of the regular season.
Columbus hit rock bottom on Dec. 7, dropping a 9-4 contest to the Buffalo Sabres on Wednesday night at Nationwide Arena. The Jackets trailed that game 6-0 with 3:20 to go in the first period, and Brad Larsen's group never recovered.
The signing of ex-Calgary Flames superstar Johnny Gaudreau — coupled with increased playing time for youngsters like Cole Sillinger and Kent Johnson — were supposed to help the Blue Jackets improve this season.
Instead, the Jackets look like they'll be a prime candidate to win the Connor Bedard 2023 Draft sweepstakes. Landing the prized prospect would be a nice consolation prize and all, but the odds of winning that under the NHL's current draft lottery system are slim.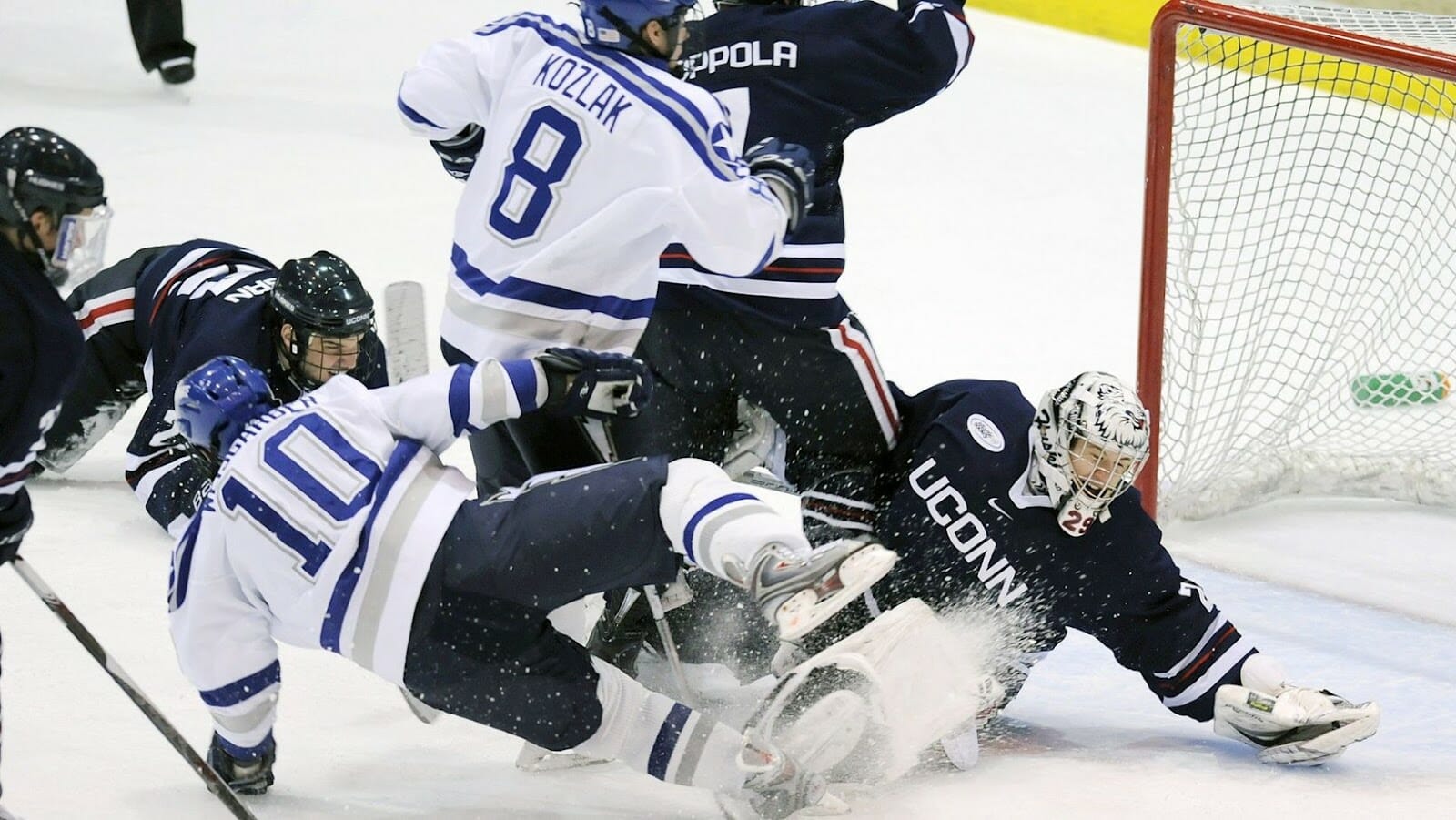 The state of Ohio is slated to launch mobile sports betting on Jan. 1, 2023. There will be many special welcome bonuses and promos available to new customers through Ohio Sportsbooks, including $200 in free wagers from BetMGM upon registering and $100 in free bets on launch day from FanDuel plus a free three-month subscription to NBA League Pass.
When the new year rolls around, Ohio sports fans will be able to place bets immediately on their beloved teams, such as the Blue Jackets, the NFL's Cincinnati Bengals and Cleveland Browns, and the NBA's Cleveland Cavaliers.
Perhaps the new year will lead to a reverse in Columbus' fortunes. One thing is clear, though: Coach Larsen will need to make some adjustments to the roster if things don't turn around quickly.
Might one of those changes consist of more playing time for goalie Daniil Tarasov?
Daniil Tarasov's last four starts (five appearances):

2-1-1 record.
.920 save percentage (10 goals against in 125 shots)
2.50 GAA.

Perhaps he needs to play more. But he might be back to Cleveland soon, too, if Elvis Merzlikins is ready. What would you do? #CBJ https://t.co/m20VPU8aIC

— Mark Scheig (@mark_scheig) November 30, 2022
Jackets Have Nothing To Lose In Starting Tarasov
Defense and goaltending have been the backbone of the Blue Jackets for a while now. But Vezina Trophy-winning goalie Sergei Bobrovsky and star defenseman Seth Jones are long gone. In addition, Zach Werenski, Columbus' top blueliner, is out for the rest of the season after undergoing shoulder surgery.
Columbus has needed steady goaltending from the tandem of Joonas Korpisalo and Elvis Merzļikins, but they haven't gotten it whatsoever. Through his first 11 games, Korpisalo had an abysmal 3.65 goals against average to go along with a save percentage of .899.
Merzļikins was even worse through his first 11 game appearances of 2022-23, with a GAA of 5.06 and a save percentage of .856. They simply aren't getting the job done, and at some point, Larsen needs to give Tarasov a chance to steal the starting job.
Columbus drafted Tarasov 86th overall back in 2017. He played in the KHL, VHL, and Liiga before joining the Jackets' AHL affiliate, the Cleveland Monsters, for the 2020-21 season. He won four of six starts for the Monsters, posting a 3.16 GAA and a save percentage of .896.
Tarasov saw four game appearances for the Jackets last season, going 0-2-0 with a phenomenal .937 save percentage and a GAA of 2.40. Through his first seven-game appearances with Columbus in 2022-23, Tarasov went 2-3- with a .912 save percentage and a 3.17 GAA.
The Jackets are at a point in the season where they're better off seeing what their young players can do. Korpisalo and Merzļikins aren't long-term solutions in goal, and Tarasov has greatly outplayed both of them this season.
Quite frankly, Larsen doesn't have much of a reason to keep rolling with the same goaltending duo. Tarasov has real high upside and has earned the opportunity to take over as the No. 1 goalie in Columbus.
Just look at the 2018-19 St. Louis Blues. They were the NHL's worst team in December of that season. They recalled a little-known goalie named Jordan Binnington from the AHL; going 24-5-1 in games, he started to make the playoffs. The Blues caught fire at the right time and defeated the Boston Bruins to win the 2019 Stanley Cup.
Sometimes, you just don't know what a young goalie might have to offer until you give them a chance. This isn't to suggest that Tarasov will lead Columbus to the postseason in 2023, but he could at least show them if he's a potential solution between the pipes.
We'll just have to wait and see how Larsen handles the goaltending situation going forward, but this much is clear: Tarasov deserves an audition to take over the starting duties in a lost season for the Jackets.