Pickleball is a sport that is fast growing to be one of the most popular sports in the U.S. Part of the reason is that there are very few limits.
There are very few rules; check out the 5 pickleball rules here. It's for all ages. You can be at any fitness level and more. Because it is so nonrestrictive, it's already attracted 4.8 million players across the U.S.
So what is so great about pickleball, and why should you try it?
Why Try PickleBall
First of all, pickleball is a paddle-based sport, much like a mixture of table tennis, badminton, and traditional tennis. It is suitable for 2 to 4 players, each using solid wooden paddles to hit a polymer ball over a net back and forth.
It's simple to play and so easy to learn for beginners. It can also get fast-paced and competitive for those who get really into it. It is up to you how you decide to play.
Reason #1. Fun For All Ages And Fitness Levels
Pickleball was initially seen as an older person's game, although now it has fast developed into a game suitable for all ages.
There are tournaments and leagues for pickleball which has captured the interest and more players from younger generations.
One of the best things about pickleball is definitely how adaptable the sport is. It adjusts quickly and well to multiple different levels, and you can easily enjoy playing pickleball competitively or leisurely with friends.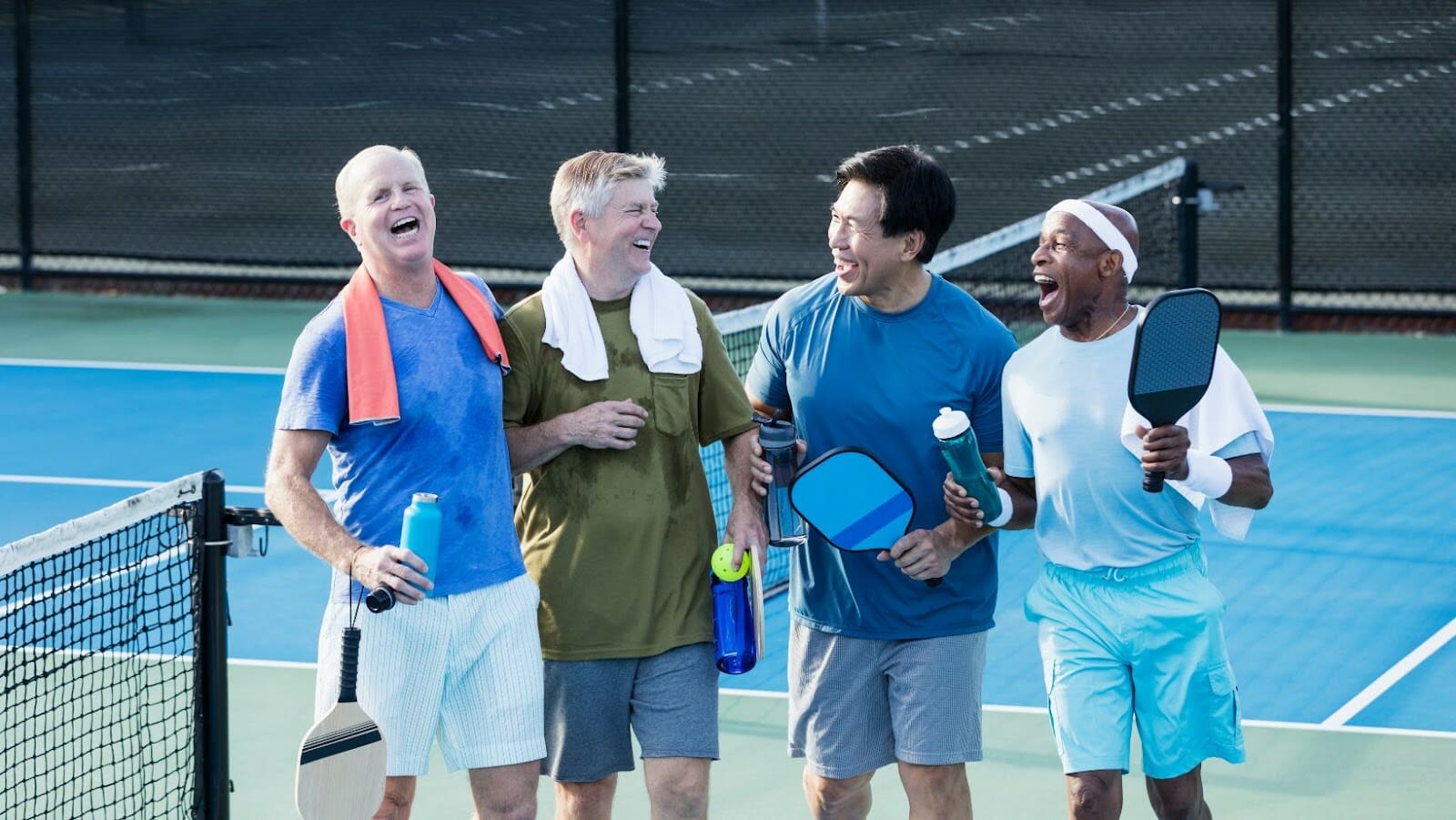 You can be fighting fit or a beginner at fitness, and it doesn't matter, you play it as suits you, there are no restrictions.
Reason #2. Fun Social Aspect
There is a unique fun aspect to the game as well. It is excellent to play singles and doubles. Also, because it is so easy to play leisurely, you can guarantee there will be plenty of laughs for everyone involved.
It does all this while giving you plenty of exercise and a good workout. Of course, you can also use it to release some stress with your buddies.
And, if you need some fellow pickleball players to play with, there are plenty of different clubs which will organize nights for playing, and you can show up and play whenever you fancy it. You'll get teamed up with people of a similar ability level too.
Reason #3. Easy To Learn
It's not like pickleball has a long list of game rules, nor does it require much skill on your behalf. You can play pickleball well with just a little practice, and they want to do so.
It's not a secret that having a little bit of experience in other racket and ball-based games will help you out, but it's not a requirement, and you can do perfectly well as a complete newbie.
You will pick it up quickly as well, just a couple of games, and you will be good! Sport has never been so easy!
Reason #4. All The Health Benefits
Pickleball is also very good for your health, and this is part of why so many older people are enthusiastic about the game. It is another way to get the health benefits of exercising without going all out.
You can expect lower blood pressure, a boost to your immune system, or even a mental health boost that makes you feel more ready and raring to go in the mornings and helps you feel prepared to face the day.
It is a fun, easy, and more social way of getting fitness in without going to the gym or jogging.
It can be engaging and enjoyable with the same benefits.

Reason #5. Not Expensive
It is also accessible to everyone because it does not cost a fortune to play. You do not need much equipment to play the game, just a paddle, and you can wear anything you would go for a jog in; there is no set attire for pickleball.
You will find new courts all over the place nationwide at fitness centres and parks.
Players can even borrow paddles occasionally; some are even less expensive in that regard.
Pickleball has plenty of other benefits, but there is a reason for its popularity. It is easy, healthy, affordable, with minimum rules, and is available and suitable for people of all ages. You and grandma can play it together; it's perfect!