The National Basketball Association is a professional basketball league in North America. It includes 29 professional teams from the USA and 1 team from Canada. This sport is one of the most-watched in the world; thus, there is a lot of attention revolving around it.
The sport has changed, accelerated, commercialized, and even perfected this millennium. Still, the past year showed that the examples of The Last Dance with Jordan and the return of Mike Tyson show that people still fondly remember the time when basketball was more than just a sport. So we go back to the past and remind the new generation of readers of athletes, clubs, and events that fascinated the world 20, 30, or 50 years ago.
Michael Jordan and Scottie Pippen
Undoubtedly, this is one of the greatest duos in NBA history. The Jordan-Pippen tandem and coach Phil Jackson led the Chicago Bulls to six titles during the consecutive NBA finals appearances in the 1990s.
Both were selected into the NBA top 50 all-time and were members of the original "Dream Team" that won gold at the 1992 Barcelona Olympics. However, this was the age of rivalry with Bad Boys Joe Dumars, and Isiah Thomas from Detroit Pistons clashed with Lakers' Magic Johnson and James Worthy.
Scotty Pippen was the first man alongside His Flying Majesty, an assistant in two campaigns for three titles, a character that MJ could always trust. Pippen ended up in Chicago instead of Seattle and made a dynasty with "Air Jordan" by chance.
Scotty played for the NBA's top side Bulls for 11 years, has six titles, seven All-Star games, two Olympic gold medals, often decided decisive matches in the playoffs, and had an excellent field goal percentage. On the other hand, the other part of one of the best NBA duos had other off-court activities. It is not a secret that NBA players play gambling as well, and MJ is actually one on the list who also earned a lot with it.
Kevin Johnson and Charles Barkley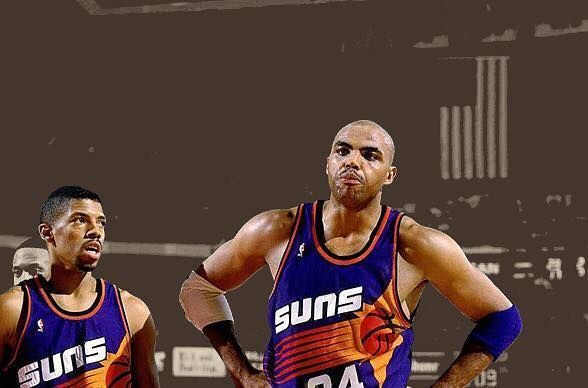 Unreal talent, hellish rival, and pride are synonyms for this tandem. KJ's game was full of creations, breaking defenses with dribbles or explosive transitions and collecting tons of fouls because it was challenging to stop him otherwise. Anyone who has watched KJ in his "prime time" moment knows what we are talking about in these lines about the greatest NBA duos.
Charles Barkley will be remembered as a great player who had a fantastic career. He was the best in the league and participated in the All-Star eleven times in a row (and once, he was the best individual in this match). Also, Barkley was in the ideal lineup of the league five times. Moreover, he was only the second to collect more than 23,000 points, 12,000 rebounds, and 4,000 assists.
Barkley, KJ, and Dan Myerle led Phoenix to fantastic results in the playoffs. They were the best in the Western Conference Finals, but in the grand final, they still found the Chicago Bulls too strong and lost 4-2. According to "Sir Charles," KJ was the best assistant when we talked exclusively about shooters.
John Stockton and Karl Malone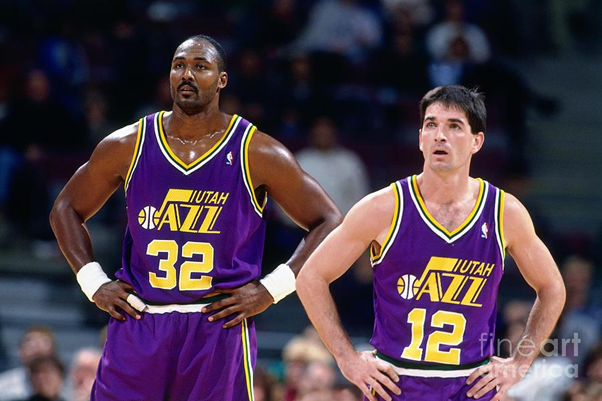 The narrative of Stockton and Malone, the best-uncrowned duo, is quite widespread, even outside of strict basket circles. During their almost twenty-year joint mandate in Utah Jazz, they were two extraordinary who achieved everything except one thing – winning the championship ring.
Malone became one of the top four, scoring an insane 37,000 points, less than only Kareem Abdul Jabbar. Stockton will most likely be the NBA assists leader for a long time. The collective memory canonizes him as a playmaker's archetype.
Their pick 'n' roll and post-up game have been practiced to perfection, and the system of steel and wise Jerry Sloan is still the "holy grail" of many NBA coaches. Karl and John's relationship is picturesque – two guys who came from opposed life situations agreed on the language of the game and achieved excellent cooperation by building a parallel eternal friendship.
Larry Bird and Kevin McHale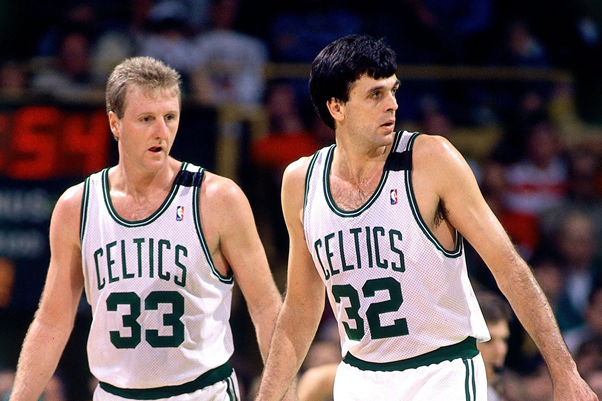 The least that can be said about McHale is that he was considered the biggest joker in the NBA league. However, his teammates in the Boston Celtics did not lack a sense of humor, so they gave him the nickname "Black Hole." He got this astronomical-catastrophic nickname because they say when you add a ball to it – it disappears like in a cosmic black hole. Nobody sees it anymore.
"When I watched him earlier in college, I thought, 'How good this guy is!' But when I stood next to him a few years later, I realized that he was much bigger live than on TV, and I admired that. His ability to read the opponent's defense was unsurpassed. It was a completely different level of understanding of the play. And there is his rival nature. You can't get to know it well until you play with him. "Larry's mental and physical strength were at the highest level in the then NBA league," McHale said, adding: "Larry was one who had no problem approaching you before the match and saying, 'I hope you feel good tonight because I feel good and ready to break you up.' He was constantly talking to someone on the field. It was a lot of fun. Sometimes, you need someone to 'pick you up during the season.' Larry was not a good athlete but a better shooter than LeBron James.
Larry is not only a player but is also known to be a gambler in life. He enjoys casinos and is a frequent visitor. Just in sport, he doesn't leave his game to the decision of a chance but uses his analytical skills during playing. He pays a lot of attention to security, choosing the safest online casino there is. On platforms like this, one player can find reliable information and comments from professional players.
Shaquille O'Neal and Kobe Bryant
While playing together, the unstoppable and unmatchable Bryant-Shaq tandem won three joint NBA titles. Although many thought that O'Neal left the team because of the mutual intolerance between Bryant and him, the "basketball superman" never publicly "attacked" his former teammate.
We can often hear statements that someone is a trademark of the club. However, a small number of athletes have spent almost their entire professional career in one team while managing to win many titles with the team, leaving an indelible mark and becoming history. We can say that Bryant belongs to this group.
It was hard to describe what kind of bravado he did on the floor. He irresistibly resembled MJ in his gestures, dunks, and feints. However, he had to wait for four seasons until the first title in the craziest sports caravan in the world, more precisely, the arrival of Shaquille O'Neal and the former coach of the champion generation of the Chicago Bulls, Phil Jackson, in the ranks of the Los Angeles Lakers.
Conclusion
The article should also have Tim Duncan, a three-time NBA finals MVP, and his "twin-tower" counterpart David "Admiral" Robinson, as they were also named one of the best duos ever. Teams such as the Portland Trail Blazers or Golden State Warriors can always contribute with Clyde Drexler and Clifford Robinson, or Steph Curry and Clay Thompson. The league has many other more or less successful tandems and will always have it as a trademark.